Crafting Smiles: Careers in Orthodontic Offices
Consider a rewarding career in an orthodontic office
Do you love working with people, have a high school diploma or equivalent, have strong customer skills, and want to be part of a rewarding life-changing team? Working in an orthodontic office could be the career for you!
Orthodontic offices offer a variety of rewarding orthodontic positions: with both clinical and administrative office positions. No matter what you choose, orthodontics can put you on a career path that provides you with the satisfaction of helping patients, improving their smiles, their dental health, and their self-esteem.
Career Paths
Orthodontic offices offer a variety of rewarding orthodontic positions: with both clinical and administrative office positions.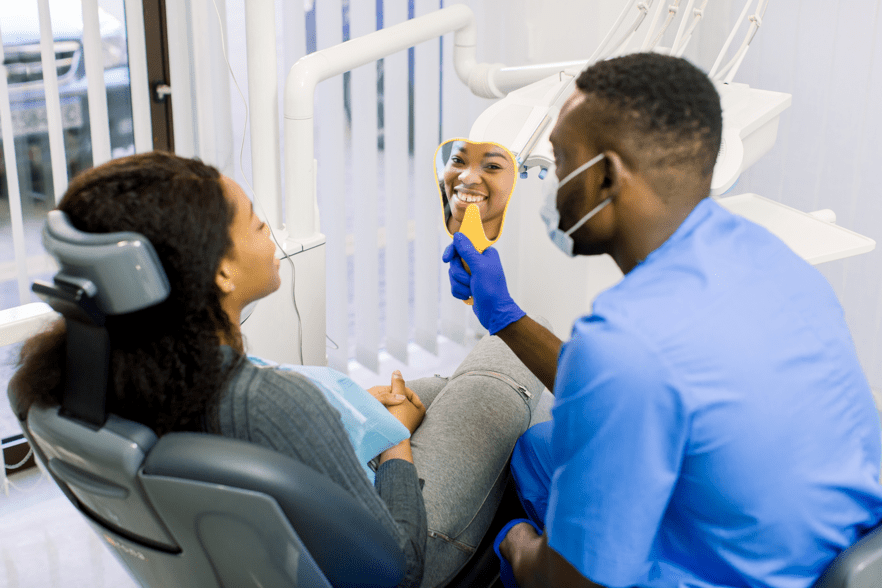 Clinical Roles
Clinical roles often have face-to-face contact with patients for the purpose of diagnosis, treatment, and ongoing care. Clinical roles often require certification or licensing.
Clinical Assistant

Highly skilled employees who work under the doctor's direction to provide orthodontic care for patients. Requires someone who is personable and likes working with their hands. Requires specific training (online and on-the-job).
Clinical Coordinator

Manages and oversees the clinical team members as they work with patients. A Clinical Coordinator handles issues that arise, ensures the clinical team is productive and helps the orthodontist work as efficiently as possible. A Clinical Coordinator must have exceptional leadership skills.
Records Technician
The Records Technician takes diagnostic records such as x-rays, photographs, impressions, and intra-oral scans. Training and attention to detail are essential for this role. Some states do require training and certification for taking x-rays.
Laboratory Technician
The Laboratory Technician's role is to make appliances, such as retainers, palatal expanders, and clear aligners. A good lab technician pays attention to detail and works primarily with computers and 3D printers to design and manufacture retainers and aligners.
Non-Clinical Roles
Non-clinical roles are those which do not provide any medical treatment or testing. Some non-clinical workers do interact with patients but do not actually provide medical care.
Treatment Coordinator

Serves as the primary contact between patient (or parent) and doctor. They provide consultation around the treatment plan and the onboarding of new patients.
Receptionist

Responsibilities include greeting patients and taking phone calls. They are the first impression at the office, so they must be personable and outgoing.
Office Manager
This position is responsible for the non-clinical management of the orthodontic office, including managing the team, overseeing that the practice runs smoothly, business and finances, human resources, customer service, and conflict resolution.
Appointment Coordinator
This role helps patients schedule, confirm, and adjust appointments. The Appointment Coordinator is highly organized and has a kind but firm demeanor.
Marketing Coordinator
Some practices employ a full or part-time Marketing Coordinator dedicated to marketing the practice to the community. This may include social media and advertising outreach, community involvement, organizing events, and newsletter creation for internal and external teams.
Insurance Coordinator

The Insurance Coordinator's role is a significant one. They are responsible for ensuring that each patient's insurance claims are filed timely and accurately and that all money due is received from insurance companies. The Insurance Coordinator must be able to communicate with the patient or parent regarding insurance matters, such as changes in insurance, dual coverage, or termination of benefits.
If this sounds like you, a career in an orthodontic office may a great fit.
A love of working with people
High-school diploma
Strong customer service skills
Attention to detail
Computer skills
Ability and interest to learn*
*Some orthodontic roles may require specific training and certifications that vary by state/province.
Look for openings in your area
The AAO Career Center is a great resource to utilize when searching for open positions. Search by job titles such as "Orthodontic Assistant" or "Office Manager."
Orthodontic practices often post open positions on Indeed.com and Ziprecruiter. Search "Orthodontic Office" and clinical and non-clinical jobs will be listed. Did you love your family's orthodontist? Reach out to them directly to ask about openings.